What is Neurofeedback?

Get Calm, Focused and Improve Thinking
At the offices of Dr. Roseann Capanna-Hodge, we help children, adolescents, teens, adults and families throughout Connecticut, New York, and remotely with clients all over the United States (and beyond!) get calm, focused and improve their thinking with neurofeedback and biofeedback
Neurofeedback treats a variety of conditions, including ADHD, anxiety, OCD, depression, concussion, learning and processing issues, pain, etc. safely, naturally, and effectively.* The goal of this non-invasive therapy is to help train the brain to function more efficiently while rewarding the brain for creating an appropriate pattern through reinforcement. When you visit our Ridgefield, Connecticut office or work with us virtually, you can expect professional care and expert treatment.
Our Science-backed Solutions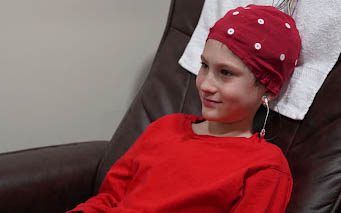 Conditions Treated with Neurofeedback
Neurofeedback can be used for different conditions including, attention and focus issues, behavioral issues, impulse control, anxiety, mood issues, Lyme, PANS/PANDAS, concussion, chronic pain, headaches, sleep problems, learning and speech issues, etc.
How Neurofeedback Helps the Brain
During a neurofeedback session, the brain learns to self-regulate, which calms the nervous system, reducing or eliminating symptoms. Without self-regulation, many problems of the central nervous system can result such as lack of focus, anxiety, mood issues, as well as physical symptoms such as headache, pain, etc.
What Happens After Neurofeedback?
With neurofeedback training, the brain learns to self-regulate with better connectivity and timing, which results in improved learning, increased focus, and feeling calmer. Clinical issues and symptoms reduce one can then learn new behaviors to learn how to cope, alert differently, or process information
Common Neurofeedback Questions:
Neurofeedback involves helping a person learn how to modify their own brainwave activity. Through the use of computers, we monitor brain functioning while recording the feedback present by the client. Through the use of Neurofeedback, we are able to train our clients to promote or reduce different brain wave frequencies, then we reward the brain for changing its own activity producing more appropriate patterns.* Through this reinforcement, new electrical activity is produced in the brain, and the brainwave activity is "shaped" toward a more desirable, more regulated performance. These changes result in symptom reduction as the brain learns to self-regulate.
The first step involves conducting a QEEG Brain Map; this is a procedure where EEG activity is recorded and statistically analyzed. The session will involve the placement of sensors on the scalp and ears. Once your session is complete, you will then meet with Dr. Roseann to review your brain map and make a treatment plan. After a protocol has been designed, you can immediately begin your Neurofeedback sessions. The number of sessions required vary based on each individual, but range from 20 to 100 or more sessions.* Most Connecticut residents usually come in two times per week.
The goal of Neurofeedback treatment is to identify abnormalities in the brain, by tracking brain wave patterns to find the exact source and cause of the abnormality.* Once this information is received, our practitioners can then begin to address the problem through behavioral treatments, therapy and medications and procedures. During these treatments, the brain will learn to self-regulate and adjust to the new situations, making it easier for the patients to get the help they need as well as maintaining the results.
We monitor progress in three ways :
Through QEEGs at regular intervals to objectively look at brain functioning.
Through data collection at every Neurofeedback session.
Through regular customized symptom checklist progress monitoring.
Proven with research, clients have made significant gains with Neurofeedback, and most Connecticut residents in our practice report significant change and symptom reduction.* Individuals often report greater success than what they initially expected (especially after trying other treatments unsuccessfully). If success isn't seen, there is typically a medical, nutritional or environmental reason, which needs to be addressed.*
Neurofeedback is a safe, drug-free treatment alternative for many conditions that affect children and adults. Thousands of research studies have proven it's effectiveness during the past 40 years. In 2013, The American Academy of Pediatrics gave Neurofeedback a Level 1 effectiveness rating for treating ADHD. This is essentially the same effectiveness as medication.*
Additional Research:
www.eeginfo.com/research
www.isnr.org/isnr-comprehensive-bibliography
Neurofeedback treatment has been extremely useful in the research of many neurological diseases and disorders, and have yielded results in not only better understanding these conditions, but treatments as well. By measuring different aspects of the brain, researchers are able to better understand disorders such as ADD, ADHD, ASD and other learning disabilities, as well as brain abnormalities like anxiety, stress, depression, OCD, sleep problems, and PTSD. Through behavior therapy and other treatments, the patient will learn how to self regulate their conditions to help them lead a better and more productive life. By physically observing their brainwave patterns, patients are able to see their brain wave abnormalities and can begin to understand what exactly is happening that leads to their conditions. Seeing that Neurofeedback has become widespread and accepted by most, it comes to no surprise that the American Academy of Pediatrics recognized Neurofeedback as an effective alternative for ADHD. In fact, AAP mentioned that Neurofeedback and EEG Biofeedback are a "Level 1 – Best Support" intervention for Attention and Hyperactive Behaviors like ADD and ADHD.
Neurofeedback Has Been Used For Decades
Neurofeedback research began in the 1960's but it wasn't until the advent of personal computers in the 1970's that neurofeedback began to be used more frequently beginning with substance abuse. In the 1980's neurofeedback really took off as a treatment for ADHD and in the 1990's neurotherapy was used for a wide variety of psychological and central nervous system conditions.
Today's Neurofeedback Research and Our Mental Health Crisis
There are more than 3,000 peer reviewed studies and tens of thousands of research studies that support the efficacy of neurofeedback in the treatment of a wide variety of mental health and medical conditions.  Within the last decade, we have come to understand that connection between the mind and body and the impact of stress on the nervous system.
QEEG brain maps, biofeedback, and neurofeedback have become more readily accepted and used. More and more patients are finding these tools are their own and wondering why they haven't heard about it sooner.  Mental health is still largely built on the medical model and that all mental health issues stem from genetically induced chemical imbalanced that can only be treated with medication. That simply isn't the case and we have loads of research to substantiate that chronic stress, inflammation, chronic health conditions, and genetic mutations have as much an impact on today's skyrocketing mental health issues.*  Conditions such as anxiety, depression, and autism as well as suicide are at an all time high. Genetics are not the only factor here and much can be done to mitigate the effect of chronic stress, inflammation, chronic health conditions, and genetic mutations on one's mental health.* Proven, safe, and natural tools such as neurofeedback, biofeedback, nutrition, and so on can have a dramatic effect on the nervous system and one's mental health.*
America's Trusted Expert for Neurofeedback
Neurofeedback is a safe and effective therapy that ROSEANN CAPANNA-HODGE™ has used to help her clients "get unstuck" when medication, other therapy, and traditional talk therapy has failed. When we regulate the nervous system with neurofeedback, we move from a stress hyperactivated nervous system™ to a calmer more parasympathetic dominate state, which gets our frontal lobes working again (or maybe working for the first time!).*
Forbes called Dr. Roseann, "The thought leader in children's mental health" because she is changing the lives of children and families not only in her Ridgefield, CT center but across the world. She has been featured in over 200 media outlets and is the go-to-resource for so many many prestigious publications and media outlets because Dr. Ro knows her stuff! She is on a mission to "change the way we view and treat mental health" and wants parents to know that they can reduce and reverse mental health symptoms naturally without medication.  At her center, with her virtual clients, and with her books, Teletherapy Toolkit™ and It's Gonna Be OK!™, as well as her  The Get Unstuck Program™, Dr. Ro is showing people the step-by-step way to change your or your child's mental health*. You don't have to go down that painful, uncertain road of traditional mental health built on guessing and always leads to medication with harmful side effects.* You have been there is know it doesn't work. There is another way and Dr. Ro is here to show you how.
Why Dr. Roseann for Neurofeedback?
Dr. Roseann is a Psychologist who works with children, adults and families from all over the US supporting them with research based and holistic therapies that are bridged with neuroscience.
Dr. Roseann is a Board Certified Neurofeedback (BCN) Practitioner and is a Board Member of the Northeast Region Biofeedback Society (NRBS) and Epidemic Answers.
She is also a member of the International Society for Neurofeedback and Research (ISNR) and The Association of Applied Psychophysiology and Biofeedback (AAPB).
Here's What Children and Families Are Saying About Working With Us!

Need help with Neurofeedback for your child and family?
We've helped over 10,000+ children, teens, and young adults find relief, calm the brain, and lead healthy lives. If you're worried that your current path is not getting to the bottom of the issues…all you need to do is fill out our solution matcher. We'll let you know which of our solutions is right for your child and family.