Social Anxiety And Selective Mutism
Why Do Some People Experience Social Anxiety?
Social anxiety is the fear of social situations that involve interactions with other people. For some, their anxiety can be so great that they struggle to speak with others and make friendships. The feelings that accompany social anxiety include anxiety, high levels of fear, nervousness, emotional instability, racing heart, blushing, excessive sweating, dry throat and mouth, vomiting, trembling, and muscle twitches.
Selective Mutism is a more extreme version of Social Anxiety Disorder. It is a complex childhood anxiety disorder characterized by a child's inability to speak and communicate effectively in select social settings, such as school or out in public. These children are able to speak and communicate in settings where they are comfortable, secure, and relaxed (such as at home).
Why Does Social Anxiety Need Treatment?
People with social anxiety typically know that their anxiety is irrational, not based on fact, and does not make rational sense.
Nevertheless, thoughts and feelings of anxiety persist, are chronic, and can greatly impact their ability to interact with others.
Our Science-backed Solutions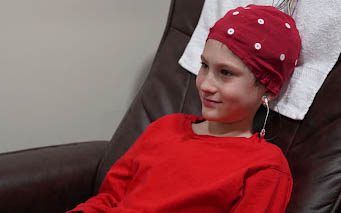 QEEG
No guesswork here… We get to the root cause of the issue using objective data from QEEG brain maps. It's powerfully simple (and pain-free!). We apply sensors and collect data. This allows us to see a person's unique brain patterns, and understand which areas have too much or too little brainwave activity that are directly impacting behavior. Once we can identify the issues, we create a care plan that addresses the brain and behavior.
Neurofeedback
No healing or learning can occur without a calm brain. That's why we train the brain to self-regulate with brain-based tools like Neurofeedback—a non-invasive therapy that calms the brain and regulates brain function. Within the first session, it begins to train the brain to produce healthy brain waves associated with regulated thoughts, better mood, and improved focus. And it is safe, easy and creates lasting brain change. Learn more about our BrainBehaviorReset™ Program.
PEMF
Be calm anywhere, anytime with Calm PEMF™ – an FDA-approved mobile device with protocols specifically designed by Dr. Roseann to support cognitive and mental health symptoms. This frequency device is scientifically proven to lower stress, improve sleep and boost brain function with a press of a button. Just pop it in your pocket and you're ready to go! Get your very own Calm PEMF device. Click here.
Why Dr. Roseann for Social Anxiety and Selective Mutism?
We take great pride in being the last place struggling kids and families have to go to. With us, you receive brain-based tools and personalized care that you won't find anywhere else.
Dr. Roseann is a Psychologist who works with children, teens and young adults from all over the US supporting them with research based and holistic therapies that are bridged with neuroscience.She is a Board Certified Neurofeedback (BCN) Practitioner and is a Board Member of the Northeast Region Biofeedback Society (NRBS) and Epidemic Answers.
She is also a member of the International Society for Neurofeedback and Research (ISNR) and The Association of Applied Psychophysiology and Biofeedback (AAPB).
Here's What Children and Families Are Saying About Working With Us!

Dr. Roseann Cappana-Hodge uses Neurofeedback, Biofeedback, PEMF & other non-invasive treatments to create customized, drugless solutions to support improved health naturally. Schedule a consultation to meet with us and start on your road to health.