Wappingers Fall, NY Neurofeedback & Biofeedback Treatment
We serve Wappingers Fall, NY patients from our Ridgefield office. For clients that live a distance from our Ridgefield, CT office, we offer intensive programming to support your needs. Dr. Roseann Capanna-Hodge assists the Wappingers Fall, NY area with Neurofeedback and Biofeedback therapies. Bio & Neuro feedback therapies are alternative and non-medicated treatments that can be used for children, adolescents, teens and adults.*
These type of therapies are used to treat the following conditions: Anxiety, ADD/ADHD, Lyme, Chronic Pain, PANS/PANDAS/Migraines and so on.
At our offices, we will only provide the most professional care and high-quality treatment from our experienced practitioners at our Ridgefield office. Our QEEG data will only be interpreted by Dr. Roseann. Our aim is to help all individuals throughout Wappingers Fall achieve better health improvements.
Seen on

dozens of media outlets

including the New York Times, BBC, Washington Post, FORBES, NBC News, Today.com, Cheddar TV, CBS LA, CBS NY, PIX11, CT News 30

Brain-behavior expert guest at The Mel Robbins Show

2020 Mindshare Health Community Up and Comer Award for Global Health Impact

Forbes Magazine, "Dr. Roseann is a thought leader in children's mental health."
Our Office Serving Wappingers Fall
Ridgefield
898 Ethan Allen Hwy
Ridgefield, CT 06877
(203) 408-9555
Dr. Roseann Capanna-Hodge cares for patients in the Ridgefield office. For clients that live a distance from our Ridgefield, CT office, we offer intensive programming to support your needs.
Research Based, Neuro Treatment in Armonk for:
ADHD and Executive Functioning
PANS/PANDAS, Lyme and Tick-borne diseases
Obsessive Compulsive Disorder (OCD)
Mood and Behavior Disorders
Family & Organization Mental Wellness
School and Learning Problems
Complex Mental Health Issues
Our Science-backed Solutions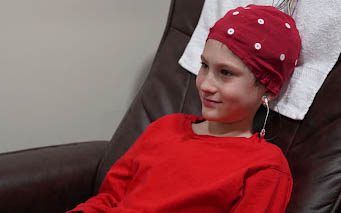 What is Neurofeedback?
Neurofeedback is a non-invasive treatment that will reinforce change by taking a look at information (feedback) given by your brainwaves (neuro).* With this type of treatment, we will help you learn to self-regulate and calm your nervous system to lessen the symptoms you are currently feeling. Without learning about self-regulation, problems such as anxiety or depression would continue to occur in your central nervous system.
What is Biofeedback?
Biofeedback is the different from Neurofeedback as it focuses on autonomic functions. These functions can be heart rate, skin temperature and breath. During the process of biofeedback, we will attach electrical sensors to your body and measure information (feedback) about your body (bio). This type of testing will help us learn the best ways to control your stress levels. If you learn to control your body, you are more likely to improve the state of your health.
What is QEEG?
A QEEG is a quantitative electroencephalogram (also known as brain mapping) that measures the electrical patterns that reflect your cortical activity. This type of EEG is done by computer analysis and the data is compared against an entire database of numerous EEGs. By conducting a brain map, we can find specific patterns such as depression or anxiety. A QEEG chart helps your treatment plan and also helps with the progress of your health.
Wappingers Fall's Trusted Experts for Neurofeedback & PEMF
Here at the office of Dr. Roseann Capanna-Hodge, Ed.D, LPC, BCN, we care for people of all ages: children, adolescents, teens, adults and families. We focus on only uses non-medicated and non-invasive therapies. Our staff is full of professionals who use judgment-free support and work to help you lessen your stress and improve your overall health.
Instead of letting multiple practitioners handle your results, Dr. Roseann will personally interpret your QEEG data. With her years of experience, she will analyze the data and design a custom-fitted Neurofeedback, Advanced Bio-Regulation, and other treatments that will help you.
Here's What Children and Families Are Saying About Working With Us!

Ways to connect with Dr. Roseann
When your child has Attention Deficit Hyperactivity Disorder or ADHD, it can sometimes feel like you're sitting on a wild train blindfolded. The ups and
Read More »
Some vital research about mental health may shed light on how common mental health disorders are in our lives. A recent study by McGarth et
Read More »
The initial struggles with Attention Deficit Hyperactivity Disorder can be extremely overwhelming. As a parent, you've probably tried conventional treatments, ADHD medications, and cognitive behavioral
Read More »
MTHFR mutations are deemed to be relatively common but the strong link between MTHFR mutations and mental health has gained attention in recent years. This
Read More »
Parenting comes with many challenges and sometimes, it can be so demanding and overwhelming due to the many challenges in a parent-child relationship that arise
Read More »
Due to the overreliance on technology, the communication skills of many people have taken a bad turn. This shift gave rise to the excessive use
Read More »
*The effectiveness of diagnosis and treatment vary by patient and condition. Dr. Roseann Capanna-Hodge, LLCs does not guarantee certain results.