When your child or teen struggles with disordered or restrictive eating, everyday life for child and parent is hard. 
Disordered eating is often something that creeps up and this recognizing the signs can be hard to see. It also is something that can turn on suddenly when part of an infection-induced PANS or PANDAS profile. 
The sudden onset of pediatric autoimmune neuropsychiatric disorder associated with strep infection or other infections such as tick-borne illness, pneumonia, and other infections are on the rise and it can be very scary when your child stops eating. 
I recall my own ill informed pediatrician telling me that it was "normal" for a two-year-old to stop eating. My response, "So you think it's normal for a kid who wants calamari for breakfast to just stop eating? I don't think so!". 
Disordered eating with kids with PANS or PANDAS disease becomes yet another thing to worry about, monitor, work around, and have friction with your kid about especially if Obsessive Compulsive Disorder OCD is the driver.
Why Do Kids with PANS and PANDAS Have Disordered Eating?
Restrictive eating in people with PANS is very common and makes getting the right nutrition in to counter the disorder a balancing act, and often something that has to wait until the root issues are addressed. It is often rooted in obsessional fears that have to be identified and treated behaviorally. 
In one study of 29 children with PANS and PANDAS, looked at the reasons why children restrict their eating. Of note, there was a two to one ratio of males with mostly PANS in this study.
All the children in the study displayed acute-onset food restriction, and associated obsessions about contamination, poisoning, vomiting, or choking. They also reported compulsive ways of preparing food (e.g., cutting, smelling, arranging, and "decontaminating" food), restricting (e.g., avoiding foods based on texture, color, smell), or refusing food.
Common Reasons For PANS and PANDAS Restrictive Eating
Pain (stomach or throat)

Difficulty swallowing

Sensory hypersensitivity (texture)

Disgusted by taste and smell

Decreased appetite 

Obsessional fears (Contamination, choking, vomiting)

Body image distortions
What is the Difference Between Anorexia Nervosa and Avoidant Restrictive Food Intake Disorder (ARFID)?
Both are eating disorders, anorexia and ARFID, that are commonly seen in children with PANS and PANDAS.
Anorexia Nervosa (AN) is defined as an eating disorder (ED) denoted by an obsessive concern about how a person looks and how much they weigh. People with anorexia spend much of their thoughts and actions on controlling their weight, often severely restricting the amount of food they eat. They may try to reduce calorie intake by vomiting after eating or by misusing laxatives, diuretics, diet aids, or enemas.
Avoidant Restrictive Food Intake Disorder (ARFID) is an eating or feeding disturbance that results from apparent lack of interest in eating or food, avoidance based on the sensory characteristics of food or concern about aversive consequences of eating. The child's limiting of food intake results in poor nutrition and/or weight loss.
ARFID is similar to anorexia in that both disorders, people with them limit the amount or type of food they will consume, but unlike anorexia, ARFID does not involve any distress about weight gain or concerns about their body size or shape.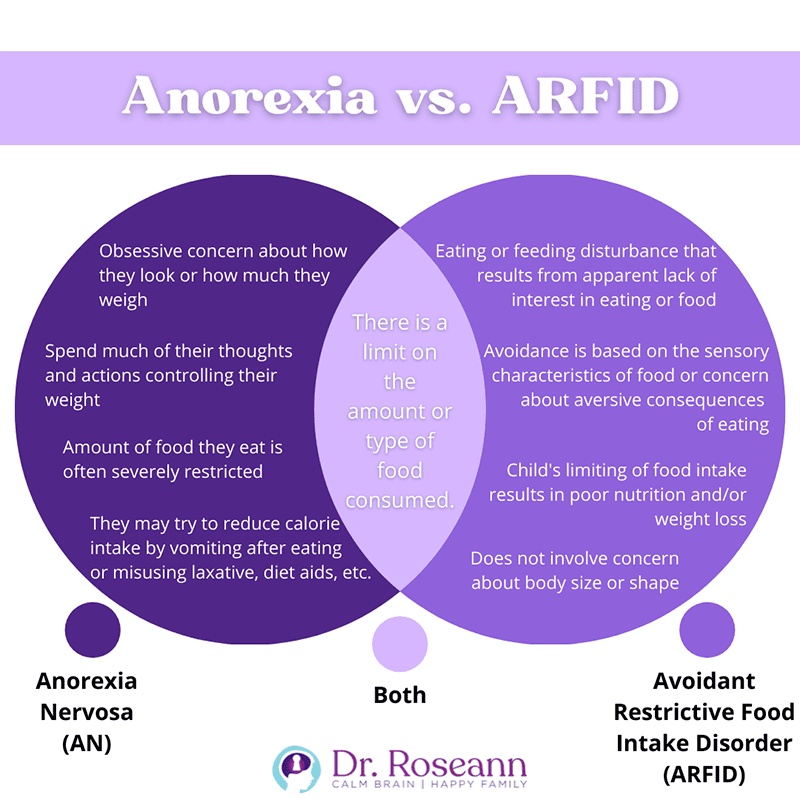 It is important to note that PANS patients with restrictive eating may experience significant health issues due to lack of proper nutrition even if they have not been diagnosed with an eating disorder. Getting proper nutrition while managing any potential OCD behaviors requires support from a clinical therapist who uses Exposure and Response Prevention (ERP).
What is the Link Between Eating Disorders and Infection?
There are both large scale and case studies that show a relationship between infection and eating disorders. 
In a large scale Danish population-based cohort study of 525 643 adolescent girls, a prior infection in childhood was associated with an increased risk of later anorexia nervosa, bulimia nervosa, and eating disorder not otherwise specified.
In one case study, a girl with tick-borne infection was diagnosed with anorexia, which resolved with antibiotic treatment. Another case with a male found similar results.
The Relationship Between the Microbiome and Eating Disorders
It is clear that there is a relationship between the gut and brain. Physical and mental health stressors have an impact on our gut health, as stress impacts our microbiome has a bidirectional influence with our brain and immune system. Stress may induce alterations of the intestinal epithelium via the interaction of the neuroendocrine and immune system. 
We know that the state of dysbiosis, or a microbial profile that is different from that found in healthy individuals, increases the risk of diseases both physical and behavioral.  Gut dysbiosis has been found in a higher rate of those with anorexia.
Given the link between gut and neurotransmitters created there (95% of serotonin) is created in the gut, and the gut-brain axis in general, a healthy microbiome is important and has been found to reduce eating disorder symptoms.
The more we learn about the gut, the more we know how impactful it is on brain health. It is important for those with PANS and PANDAS and eating disorders to support their gut health with probiotics and other nutrients that build a healthy microbiome.
What Problems Can Result From Restricted Eating?
Prolonged restricted eating can lead to: 
Increased emotional distress

Increased behaviors (OCD fears, resistance to food, questioning, emotional upset)

Reduced psychosocial functioning and coping skills

Malnutrition, nutritional deficiency

Medical complications

Significant weight loss or failure to gain weight

Gastrointestinal complications

Impaired sleep
What is the Best Treatment for Restricted Eating and PANS and PANDAS?
Treatment for PANS and PANDAS involves a combination of treating the underlying infections, reducing inflammation and behavioral and family support. Infections such as streptococcal infections, tick-borne illness, COVID, Epstein-Barr, and toxic sensitivities all need to be addressed. 
The same treatment needs to be applied to the restrictive eating components of PANS and PANDAS. Looking at why your child is restricting their food with a highly literate PANS/PANDAS professional is part of the process. 
If OCD is the driver behind the behaviors and they have obsessional fears such as contamination (germs, position, etc.), choking, and vomiting worries, then parents should prioritize OCD ERP therapy and other OCD treatments such as neurofeedback for OCD. 
OCD in children with PANS and PANDAS is common. Contamination fears can overtake family life and every meal turns into the most stressful time. Constant questioning becomes the outward manifestation of a hijacked brain. 
ERP therapy for OCD gives parents and children the tools to talk back to their irrational fears. And through safe exposure with a highly trained therapist, the irrational fears extinguish over time when parents not only gain tools to do so but understand the neuroscience of OCD.
Citations:
Breithaupt, L., Köhler-Forsberg, O., Larsen, J. T., Benros, M. E., Thornton, L. M., Bulik, C. M., & Petersen, L. (2019). Association of Exposure to Infections in Childhood With Risk of Eating Disorders in Adolescent Girls. JAMA psychiatry, 76(8), 800–809. JAMA Network
Kinderlehrer D. A. (2021). Anorexia Nervosa Caused by Polymicrobial Tick-Borne Infections: A Case Study. International medical case reports journal, 14, 279–287. Dove Press
Lam, Y. Y., Maguire, S., Palacios, T., & Caterson, I. D. (2017). Are the Gut Bacteria Telling Us to Eat or Not to Eat? Reviewing the Role of Gut Microbiota in the Etiology, Disease Progression and Treatment of Eating Disorders. Nutrients, 9(6), 602. MDPI
Morita, C., Tsuji, H., Hata, T., Gondo, M., Takakura, S., Kawai, K., Yoshihara, K., Ogata, K., Nomoto, K., Miyazaki, K., & Sudo, N. (2015). Gut Dysbiosis in Patients with Anorexia Nervosa. PloS one, 10(12), e0145274. PLOS ONE
Niess, J. H., Mönnikes, H., Dignass, A. U., Klapp, B. F., & Arck, P. C. (2002). Review on the influence of stress on immune mediators, neuropeptides and hormones with relevance for inflammatory bowel disease. Digestion, 65(3), 131–140. Karger
Pachner, A. R., Duray, P., & Steere, A. C. (1989). Central nervous system manifestations of Lyme disease. Archives of neurology, 46(7), 790–795. JAMA Network
Toufexis, M. D., Hommer, R., Gerardi, D. M., Grant, P., Rothschild, L., D'Souza, P., Williams, K., Leckman, J., Swedo, S. E., & Murphy, T. K. (2015). Disordered eating and food restrictions in children with PANDAS/PANS. Journal of child and adolescent psychopharmacology, 25(1), 48–56. Mary Ann Liebert, Inc., publishers
Always remember… "Calm Brain, Happy Family™"
Disclaimer: This article is not intended to give health advice and it is recommended to consult with a physician before beginning any new wellness regime.
Are you looking for SOLUTIONS for your child or teen with PANS or PANDAS?
Dr. Roseann and her team are all about solutions, so you are in the right place! 
There are 3 ways to work with Dr. Roseann: 
You can get her books for parents and professionals, including: It's Gonna Be OK™: Proven Ways to Improve Your Child's Mental Health, Teletherapy Toolkit™ and Brain Under Attack: A Resource For Parents and Caregivers of Children With PANS, PANDAS, and Autoimmune Encephalopathy.
Are you a professional who wants more training from Dr. Roseann? 
Purchase her book, Teletherapy Toolkit™: Therapist Handbook for Treating Children and Teens. 
If you are a business or organization that needs proactive guidance to support employee mental health or an organization looking for a brand representative, check out Dr. Roseann's professional speaking page to see how we can work together. 
Dr. Roseann is a Children's Mental Health Expert and Therapist who has been featured in/on hundreds of  media outlets including, CBS, NBC, FOX News, PIX11 NYC, The New York Times, The Washington Post,, Business Insider, USA Today, CNET, Marth Stewart, and PARENTS. FORBES called her, "A thought leader in children's mental health." 
She is the founder and director of The Global Institute of Children's Mental Health and Dr. Roseann Capanna-Hodge. Dr. Roseann is a Board Certified Neurofeedback (BCN) Practitioner, a Board Member of the Northeast Region Biofeedback Society (NRBS), Certified Integrative Medicine Mental Health Provider (CMHIMP) and an Amen Clinic Certified Brain Health Coach.  She is also a member of The International Lyme Disease and Associated Disease Society (ILADS), The American Psychological Association (APA), Anxiety and Depression Association of America (ADAA) National Association of School Psychologists (NASP), International OCD Foundation (IOCDF) International Society for Neurofeedback and Research (ISNR) and The Association of Applied Psychophysiology and Biofeedback (AAPB).
© Roseann-Capanna-Hodge, LLC 2022