Patterson, NY QEEG, Neurofeedback & PEMF Treatment Center
Welcome! We serve Patterson patients from our Ridgefield office.
If your child, teen, or family is struggling, then you need quality guidance from a trusted expert who has helped thousands of families like yours create lasting change. That is exactly what our BrainBehaviorReset™ Program is all about.
Led by the leading children's mental health experts, Dr. Roseann Capanna-Hodge, our team of experts provides science-backed integrative and non-medication therapies for children, adolescents, teens, and families. 
We use only the best of what science has shown us to work in achieving mental wellness and creating lasting change, including QEEG-Brain Mapping, Neurofeedback, CALM PEMF™, Neurotastic™ supplements, psychotherapy and coaching, and evidence-based therapies. 
We understand that distance can be a barrier for some families, which is why we offer in-person, intensive programming and virtual to support your child's and family's needs—no matter where you are.
Wherever you are today, we can guide you with the right solutions at the right time in the right order to reduce symptoms such as inattention, anxiety, mood, and struggles in school.
Seen on

dozens of media outlets

including the New York Times, BBC, Washington Post, FORBES, NBC News, Today.com, Cheddar TV, CBS LA, CBS NY, PIX11, CT News 30

Brain-behavior expert guest at The Mel Robbins Show

2020 Mindshare Health Community Up and Comer Award for Global Health Impact

Forbes Magazine, "Dr. Roseann is a thought leader in children's mental health."
Our Office Serving Patterson
Ridgefield
898 Ethan Allen Hwy
Ridgefield, CT 06877
(203) 408-9555
Dr. Roseann Capanna-Hodge cares for patients in the Ridgefield office. For clients that live a distance from our Ridgefield, CT office, we offer intensive programming to support your needs.
Research Based, Neuro Treatment in Patterson for:
ADHD and Executive Functioning
PANS/PANDAS, Lyme and Tick-borne diseases
Obsessive Compulsive Disorder (OCD)
Mood and Behavior Disorders
Family & Organization Mental Wellness
School and Learning Problems
Complex Mental Health Issues
Our Science-backed Solutions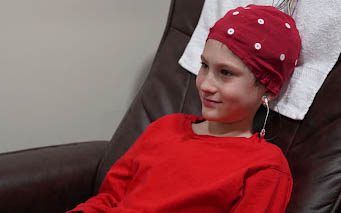 QEEG
No guesswork here… We get to the root cause of the issue using objective data from QEEG brain maps. It's powerfully simple (and pain-free!). We apply sensors and collect data. This allows us to see a person's unique brain patterns, and understand which areas have too much or too little brainwave activity that are directly impacting behavior. Once we can identify the issues, we create a care plan that addresses the brain and behavior.
Neurofeedback
No healing or learning can occur without a calm brain. That's why we train the brain to self-regulate with brain-based tools like Neurofeedback—a non-invasive therapy that calms the brain and regulates brain function. Within the first session, it begins to train the brain to produce healthy brain waves associated with regulated thoughts, better mood, and improved focus. And it is safe, easy and creates lasting brain change.
PEMF
Be calm anywhere, anytime with Calm PEMF™ – an FDA-approved mobile device with protocols specifically designed by Dr. Roseann to support cognitive and mental health symptoms. This frequency device is scientifically proven to lower stress, improve sleep and boost brain function with a press of a button. Just pop it in your pocket and you're ready to go! Get your very own Calm PEMF device. Click here.
Patterson's Trusted Experts for Neurofeedback & PEMF
We take great pride in being the last place struggling kids and families have to go to. With us, you receive brain-based tools and personalized care that you won't find anywhere else.
Dr. Roseann Capanna-Hodge, Ed.D., LPC, BCN strives to help all of our Patterson patients receive quality care and health-promoting treatments. Our methods work with children, teens, adults, and entire families for a variety of issues. Our Ridgefield office helps you feel comfortable with non-judgmental support from our professionally trained staff. Everything we do it to alleviate stress and promote wellness.
All of the QEEG data is interpreted directly by Dr. Roseann. We never outsource your data to other test studies, making sure you only receive the most accurate results. After analyzing the data, we create a customized treatment plan involving Neurofeedback, Biofeedback, and other treatments. We proudly serve all people in the Patterson, NY area.
Here's What Children and Families Are Saying About Working With Us!

Ways to connect with Dr. Roseann
The question of whether Obsessive Compulsive Disorder (OCD) falls under the category of neurodivergence is asked more and more as mental health issues are increasingly
Read More »
What are OCD Compulsions? Obsessive-Compulsive Disorder (OCD) is often misunderstood as just an intense desire for orderliness. However, at its core, OCD involves two key
Read More »
Attention Deficit Hyperactivity Disorder (ADHD) is a condition that affects children and adults throughout their lifespan in similar and unique ways. For some people with
Read More »
Today, we're diving into one of the most effective tools for calming the brain and body: PEMF therapy. I have been using PEMF for 9
Read More »
Negativity never feels right, but sometimes it is just too pervasive that it sneaks into moments of our lives, influencing our thoughts, emotions, and actions.
Read More »
Neurodivergent children encompass a wide range of conditions, from ADHD and autism to anxiety, depression, and more, all of which influence how they learn and
Read More »
*The effectiveness of diagnosis and treatment vary by patient and condition. Dr. Roseann Capanna-Hodge, LLCs does not guarantee certain results.